---
Birthday Texts for Sister
---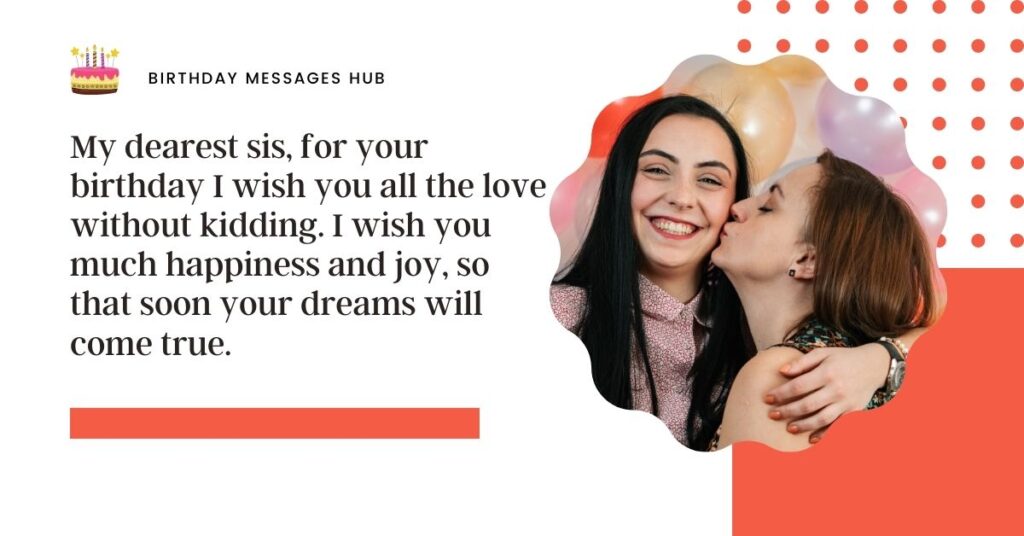 ---
Despite our arguments and disagreements, we are sisters and that is what makes our relationship so beautiful and special. I hope that this day is unique for you and that you can enjoy the beginning of your new year with us: Happy Birthday!
---
Today is an unforgettable day because it is your birthday. I wish you a good time in the company of your loved ones and then you will celebrate with all your friends. As a sister, I wish you a happy birthday.
---
Do you remember when we were riding our bikes looking for thousands of adventures? I remember like it was yesterday and it was a blessing to have you as a sister. Every day I give thanks for that. Happy Birthday.
---
Happy birthday older sister, you know you have always been my biggest support and for that I am very grateful. I will never forget all you have done for me, I will always be in your debt!
---
Even though I don't tell you very often, you know that I love you very much and that you are an essential person in my life. So today I want to wish you a happy birthday. I hope that you will always be very happy and that all your wishes will come true.
---
Your birthday is a very special day and it is not only your birthday, it is also my birthday, happy birthday sister, I love you very much.
---
May life give you happiness and joy and may it take away your worries, especially on a day like today, your birthday. I wish you an evening full of laughter and contentment, that's exactly what you deserve: happy birthday!
---
A sister like you is a gift from heaven and a blessing to the family. Even though you are the little sister, you always knew how to advise and support me when I needed it. That's why I feel like I owe you so much, little one. I wish you all the best on your birthday.
---
Happy Birthday. I love you, little sister!
The day has finally come for you to join me for a drink, today you are 18 years old! Happy birthday little sister, I hope you have a great time tonight and be very careful with the drinks so the hangover comes to us all!
---
Even though we are far away, it doesn't matter, I still feel you close to me when I need it the most. That's why I want to send you this birthday message today, hoping that you feel me close too, even if I'm not. You can count on me even when I am far away, sister. Happy birthday, sister.
---
Today I want to congratulate the best sister in the world, you. I hope that your birthday will be a beautiful one and that you will have an unforgettable day. Also, I hope you don't forget your sister who loves you so much. Happy Birthday.
---
No two people are the same in this world, and that's a good thing, because putting up with two like that shouldn't be easy: Happy birthday, sister!
---
I woke up earlier than usual to wish you a happy birthday, older sister, you're getting old! Try not to get up too early today. Enjoy your birthday.
---
Thanks for putting up with all my balls when we played soccer as a family. You are an exemplary sister and I am very proud that you reached the top of the mountain. Happy birthday from your brother who loves you like crazy.
---
My dear sister, on this special day I wish you a happy birthday and that my message brings the first smile of the day. Happy Birthday.
---
Dear elder sister, today I congratulate you not only because it is your birthday, but because you have come with your perseverance to achieve everything you set out to do in life. Never change because you are my great example to follow. Happy birthday to you.
---
Our parents always had a lot to laugh about with you, no matter whether you dressed up or told funny stories. Even today, you are happy to look life in the face. So humorous it should also continue – then you can see everything in the eye.
---
I wanted to write you a poem, but I do not want to drive you away, so I let it be in the end All the best, little sister!
---
It's my sister's birthday and I'm giving this speech to show my love big, because I can't keep it a secret. Happiness and blessings come handy to me, I want to give them to you in heaps and prosperity I put on top, so your life shall take its course.
---
Be as you are, do not change, because as you are, you are indescribable! Dearest sister, all the best for your birthday, and healthy peace in heart and soul.
---
We are sisters, no question. We can gossip together, without complaint. I appreciate you, I promise you, so I will never hurt you.
---
All the beautiful memories we have together, no one can take away from us. Every birthday of yours makes me happy to have such a great sister. All the best, dear little sister and that many more birthdays will follow that we can celebrate together.
---
May you live high, may you live high, three times high. Dear little sister, may all your dreams come true. I wish you great love, health, success at work, lots of fun and dear friends for the celebration. . Happy birthday wishes and many hugs
---
My dearest sis, for your birthday I wish you all the love without kidding. I wish you much happiness and joy, so that soon your dreams will come true.
---
Dearest sis, on your birthday I wish you all the best, good health and that all your dreams and wishes come true.
---
With siblings it is complicated, peace is not always guaranteed, but with us everything was clear, because you are a special specimen. Today, on your birthday, I give you not only the best, no, I want to give you much more, it is attachment for a lifetime.
---
We can go through thick and thin together, because sisters know how to understand each other. We can consult each other about everything, tell each other their biggest secret.
---
Even if we often quarrel, we have many similarities. Even if we often quarrel, I want to thank you. Thank you for being my sister.
---
Congratulations to the most beautiful sister in the universe. You have always been a blessing from God and that is that when we thought we couldn't be happier, you came to assure us that we could be even happier.
---
Not only are you my best friend, you always listen to me and are always there for me when I needed you. Not everyone has such a great sister and today is your birthday, so I wish you an exceptionally happy day, you deserve it! Happy Birthday!
---
Never forget that you can count on me on good and bad days. You are my family and family must be taken care of at all times. I wish you a very happy birthday. I love you, sister.
---