---
Happy Birthday Texts for Girlfriend
---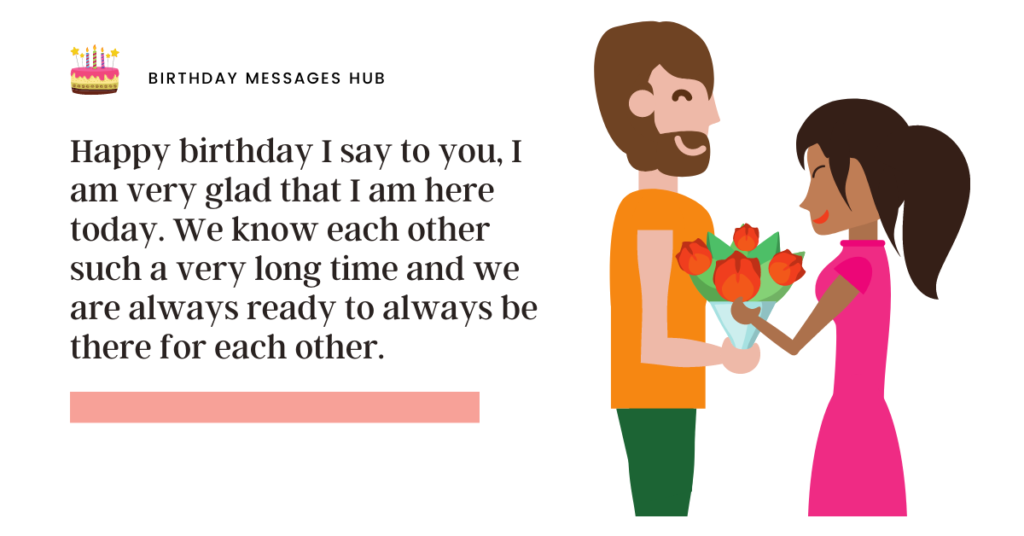 ---
Flowers open with warm fragrance atomize most beautiful words just for you. Happy birthday.
---
Happy birthday I say to you, I am very glad that I am here today. We know each other such a very long time and we are always ready to always be there for each other.
---
I wish you all the best for your birthday and what you dream. You are very important to me and the best friend there is.
---
A year older again? Don't worry about it, because you are just a great friend that the years of life can't harm. Congratulations!
---
I wish you all the best for your birthday! You are always like a sister to me, for which I would like to thank you once.
---
Wishing a very special person a very special day. Have a great birthday, my sweet friend.
---
What do you want for your birthday, sweet girlfriend? If you ask me, I know exactly what I want for your birthday. I just want everything to stay the way it is and we will continue to share so many exuberant and also quiet moments full of intimacy.
---
For me you are breathtaking, bombastic, charming, memorable, exquisite, joyful, very special, helpful, somehow different, juchee, funny, lovable, my best friend, not to forget, without description, perfect, bubbly, huge, sensational, dancing bear, unbelievable, crazy, like no other, x-tra class, yeah, pretty extraordinary. In short: everything from A to Z!
---
Today is your birthday, happy and fun you should be. A kiss on the cheek, I wish you good luck and sunshine!
---
In short, my wish is small: You may always be happy!
---
Often We laughed together thinking about serious things. Today We both stand here now after all these years I congratulate you. You are the best!
---
As a good friend, you have the ability to keep secrets to yourself! You know you can always count on that with me. But that today is your birthday, I just had to tell everyone. Do you forgive me? Let me hug you tightly and wish you all the happiness in the world!
---
Another year has passed today, you will start a new one, you should be accompanied by happiness, and with this little verse, I want to tell you for your birthday, I am a friend for all questions.
---
I wish you 12 months of happiness, 52 weeks of contentment, 365 days full of love, 8,760 hours without stress, 525,600 minutes of cheerfulness and 31,536,000 seconds with your loved ones. In short: an incomparable year!
---
I wish you a day as unique and beautiful as you are: Happy Birthday!
---
Happy birthday – all the best, all the happiness in the world. Stay healthy and do what you really like for once!
---
May this birthday be the beginning of a year full of beautiful memories, wonderful moments and bright dreams.
---
Feel tightly hugged and cuddled for your birthday! All the love & good for your new year of life.
---
Happy birthday – all the best, all the happiness in this world. Stay healthy and do what you really like for once!
---
Who is celebrating here today through the birthday night with a lot of fun,
Happy birthday, birthday boy, and keep on giving!
---
Celebrate, sing, laugh and enjoy life,
and dance like there's no tomorrow.
---
Worries, fears, hardships find no place in your thoughts today, guard the beautiful memories in your heart like a precious treasure.
---
There is a secret recipe for your birthday,
that was discovered just for you:
The basic ingredients are trust and happiness,
a large portion of friendship and love.
A large portion of health belongs in it,
with ease you conjure up a color in it.
A lot of cheerfulness and courage
are especially good for seasoning.
For seasoning the courage to live is great,
then the new year will be wonderful!
---
Feel for your birthday firmly smooched and cuddled!
All the love & good for your new year of life.
---
A box I have ordered for you,
with the most precious treasures of the whole world.
Love, friendship and happiness shine like gold,
Health and courage glitter like a diamond piece.
Great pearls of friendship and happiness,
are strung on a chain.
This treasure chest bring you well through the year-
Birthday girl, hip, hip hooray!
---
No matter how much I wish it for your birthday, the sun can't shine for you every day of your new year of life. But you know what? You belong to the lucky people who carry so many light-filled thoughts in their hearts – the weather doesn't matter!
---
Candles, gifts and a cake
says more than many words today.
Here's to our friendship and life,
there will be many more beautiful moments!
---
You are such a special person to me and I hope you will float through this great day with a big smile on your face.
---